YMCA LiveStrong Survivorship

Delaware Division of Public Health (DPH) created these resources to help Livestrong at the YMCA program coordinators and instructors promote the Cancer Survivorship program. You'll also find tips and talking points for explaining the program — and its benefits — to community leaders and cancer survivors.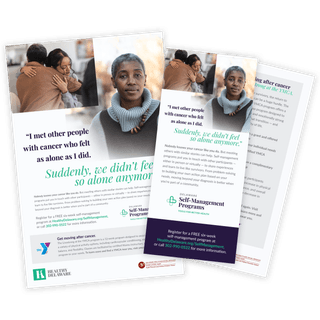 Cancer Survivorship (YMCA) Poster
(11"x17")
Available in English (11" x 17")
Cancer Survivorship (YMCA) Rack Card
(4"x9")
These handy cards (English only) make patients aware of the no-cost programs available in partnership with the YMCA, so they can learn to live like survivors and improve the quality of their life. For display in exam rooms and patient waiting areas.
Cancer Survivorship Event Guide (YMCA) Talking Points
Important points for talking to cancer survivors about elevating health, wellness, and quality of life.
Cancer Survivorship Outreach (YMCA) Email Content
Outreach email template that encourages the recipient or community leader to introduce survivors and caregivers to additional resources for support, as well as to inspire them to access those resources.
Cancer Survivorship Outreach - Partnership (YMCA) Email Content
Email templates directed toward partnerships to provide groups with more opportunities, options, connections, and inspiration to support them in achieving even higher levels of health and wellness.
Cancer Survivorship Outreach (YMCA) Newsletter Content
Email templates that encourage the recipient to learn more about and register for the CTS series of cancer self-management programs.